Water Based Flexographic Printing Inks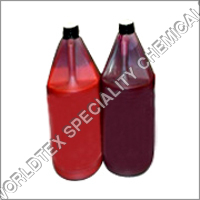 Water Based Flexographic Printing Inks
Product Description
Aqua Flexo WQSI
Worldtex water based inks are formulated for flexo printing on absorbent substrates. They are characterised by their ability to provide high quality prints and maximum brightness over bleached, oyster and brown substrates.
Properties:
High colour strength at low viscosity.
Rapid drying by absorption into the substrate.
Can be formulated for low slip, enhanced rub product resistance.
Water based flexo inks are used for wide variety of application.
Technical information and ink handling:
Substrate: Bleached oyster and brown kraft used in sacks, corrugated and solid fibre board Cases, sulphite papers used in bags and wrapping papers. Other paper based materials including certain coated stocks.
Reduction: Reduced with water only to printviscosity at high speed (3000- 5000 impression /Hour) viscosities as low as 17 seconds, Zahn 2 may be used on slower case printers viscosities of around 30 seconds may be more appropriate (1000-3000 impression/hour). The optimum PH value for printing is 8.0 9.0 is recommended.
Wash up: Water is normally used. However if inks have been allowed to dry on the rollers or stereos, propylene glycolethyl or a mild alkali solution may be necessary to fully remove dried inks.
Rollers and Stereos: Worldtex inks are water based and may be used with all normal rubber or photo polymer stereos. Mild steel rollers should not be used as they are liable to corrode.
Colour range: Worldtex inks are available in a range of single pigmented colours suited to in-house blending operations or as matched shades. Although the pigments used in "Worldtex Flexo have a reasonable degree of light fastness, they are not normally suited to extended exposure to direct sunlight. For some colours improved light fastness can be made available. This requirement should be discussed with our technical service personnel prior to ordering.
Storage: Being water based Worldtex Inks are not considered highly inflammable.