Textile Smoothness Softener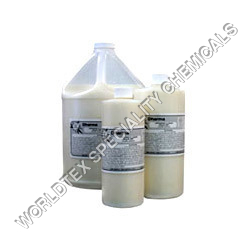 Textile Smoothness Softener
Product Description
With a precise understanding of the relevant industry, we are counted as the top most firms offering Textile Smoothness Softener. Widely demanded in textile and garment industry, this softener can impart excellent softness, smoothness & hydrophility to the fabric. Owing to its qualitative attributes which includes purity and long shelf life, offered softener is widely accepted by the clients. Moreover, our prestigious clients can purchase this Textile Smoothness Softener from us at rock bottom prices and in varied packaging options.
Features:
Lushfeel WVR is a polymeric quat softener
Lushfeel WVR gives surface smoothness, fullness with lubricity
Lushfeel WVR being a nano particle penetrate inside the core of yarn in hank form and improves smoothness, bulkiness, colour brilliancy and strength of finished Cotton / acrylic yarn
Lushfeel WVR is suitable for finishing woven 100% cotton, PC, PV fabrics
The product can replace conventional Polyethylene, Tallow and Stearate based softeners
Specifications:
Appearance :Paste yellow paste

Solubility :Water soluble (temp. 60-70 0C)

Nature :Cationic (quaternary)

Solid content :98 ??? 2%
Preparation of 10% soultion:
Take 9X gm of warm water.

Add X gm of Lushfeel WVR

Add acetic acid (approx. 1%) to achieve pH of 3.5 4.

Stir it for 15-20 min for preparing clear solution preferably with high-speed stirrer (1440 rpm).

Note: where high-speed stirrer is not available higher temperature water (60-70 0C) would be ideal.
Note:
10% solution of Lushfeel WVR is stable under ambient temperature condition for 10 days.A slight yellowing of white fabric treated with Lushfeel WVR may be caused by prolonged exposure to heat above 160 deg C.

Lushfeel WVR is recommended to be used in combination with silicon softeners to achieve higher surface smoothness.
Storage:
The material should be stored below 40???C in shaded area.

The product on ageing may show slight haziness in diluted solution but it does not affect the performance of the product.

Stable for 12 months if stored in a shade at room temperature.
Application:
Substrate

Target properties

Recommended dosage of 10% solution

Pad (gpl)

Exhaust (% owg)

Cotton / acrylic yarn in hank form

:

Softness, better colour briliancy, surface smoothness, improved tensile strength

N.A

1 to 3

Cotton & blended fabric woven/knitted

:

Softness, sewability surface smoothness

10 - 50

1.5 to 5

Warp separator in rope denim yarn dyeing

:

Surface lubricity with hydrophilicy

50 100

5 to 10

Denim / drill

:

Body breaking, good

Sewability

10 - 100

1 to 10