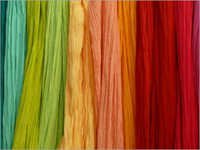 Worldfast NDF 2070
Product Description
Worldfast NDF 2070
COMPOSITION :
Nitrogenous Condensate
DESCRIPTION :
Worldfast NDF 2070 is an excellent non – formaldehyde dye fixing agent to the wash fastness of Reactive and Direct dyes
CHEMICAL & PHYSICAL CHARACTERISTICS
Colour and Appearance : Colourless to light yellow clear liquid.
Nature : Cationic.
Solubility in water : Soluble.
Compatibility : Stable with cationic & non-ionic product.
PRODUCT ATTRIBUTE
ï'· It is free from formaldehyde.
ï'· Easily applicable by Pad and exhaust process.
ï'· No significant effect on light, fastness of coloured substrates as in
the case with conventional dye fixer.
APPLICATION
ï'· Dye and printed cotton is rinsed to remove residual alkali / anionic
surfactant and then treated with NFDF.
1. CONTINUOUS PROCESS :
By padding through a container
Worldfast NDF 2070: 10 – 25 gm/lit
At 30 - 40c at mild acidic pH (5.0 – 6.0)
2. BATCH WISE TREATMENT:
By running in containing.
Worldfast NDF 2070 – 0.5 to 2.0 % (OWM)
At 30 - 40C & at mild acidic pH – (5.0 – 6.0)
for 15 – 20 min.
PACKAGING / STORAGE / SAFETY
Packaging : 50 &100 kg HDPE containers.
Storage : Protect from extremes of temperature.
Shelf Life : 12 months from date of manufacturing in original
sealed container.
Protective Clothing : Normal precautions for handling chemicals should be applied
Including the wearing of protective clothing, hand gloves & safety goggles.
Contact Us
438, Phase-II, Near Tapsheel, GIDC, Vatva, Ahmedabad, Gujarat, 382445, India
Phone :+918068214312