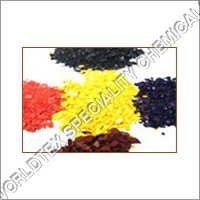 Water Based Roto-Gravure Printing Inks
Product Description
Aqua Gravo W-QS
AQUA GRAVO W-QS (Water based gravure ink medium)
Description: AQUA GRAVO W-QS is formulated for gravure printing on absorbent substrates. They are characterized by their ability to provide high quality prints and maximum brightness over any type of paper substrates. AQUA GRAVO W-QS is self cross-linking Acrylic co-polymer emulsion. It has excellent thermal and mechanical stability, which gives it superior running properties. It has a special acrylic system, which gives good wet rubbing fastness.
Properties:
· High colour strength at low viscosity.
· Rapid drying by absorption into the substrate.
· Can be formulated for low slip, enhanced rub product resistance.
· Water based gravure inks are used for wide variety of application.
· Choking problems are not visible even in long and continues run.
Technical information and ink handling
· Appearance: Milky white liquid.
· Miscibility: Good in water.
· pH: 8 - 9
· Compatibility: Compatible with water and pigment emulsion.
· Substrate: Any type of paper and stock substrate.
· Wash up: Water is normally used. However if inks have been allowed to dry on the rollers or stereos, propylene glycol-ethyl or a mild alkali solution may be necessary to fully remove dried inks.
· Storage: Being water based "AQUA GRAVO W-QS" is not considered highly inflammable.
(Information provided here is in good faith, to the best of our knowledge and without liabilities)
Contact Us
438, Phase-II, Near Tapsheel, GIDC, Vatva, Ahmedabad, Gujarat, 382445, India
Phone :+918068214312