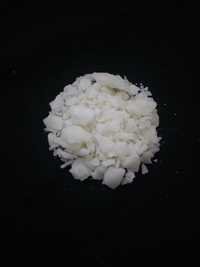 Softner WC100 (Cationic Softener)
Product Description
Softner WC100
COMPOSITION :
Modified Fatty Amide
DESCRIPTION :
Softner WC100 is low cost catonic softner in concentrated 100% flakes form which imparts a soft and buttery handle to cottons and cellulosic/synthetic blends.
CHEMICAL & PHYSICAL CHARACTERISTICS
Colour and Appearance: Cream white to cream waxy flakes.
Ionic - Nature : Cationic
5% pH of 20% paste : 3.5 – 5.5
Solubility in water : Dispersible
Compatibility : Compatible with non-ionic and cationic product
SOLUBLITY & COMPATIBILTY
Easily Dispersible in hot water.
Chemically stable to acetic medium & hard water.
Compatible with cationic & other nonionic surfactant.
PRODUCT ATTRIBUTE
It can be easily diluted to 20% paste by simple high speed
stirring.
Does not affect adversely absorbency of the fabric.
Is resistant to yellowing and little effect on colour brightness
and tone.
A] PROCEDURE TO GET DILUTED PRODUCT
Charge 80 kgs of water in open vessel having high speed stirring
Charge 20 kgs of Softner WC100 & keep for 4 to 5 hrs.
Start stirring after 4 to 5 hrs. till the uniform paste form.
B] DIRECTION FOR USE OF DILUTED END PRODUCT
The diluted product can be used by exhaust and pad application for finishing of Textile Substrates like
Polyester, Cellulosic, Wool and their blends.
DOSAGE 1 TO 3% (By Exhaust)
5 TO 25 gm/ltr (By pad at 90% picking)
pH OF APPLICATION : 4 - 5 For Cellulosic
6 - 7 For Polyester
PACKAGING / STORAGE / SAFETY
Packaging : 20 kg polybags.
Storage : Protect from extremes of temperature
Shelf Life : 12 months from date of manufacturing in original sealed
container.
Protective Clothing : Normal precautions for handling chemicals should be applied including
the wearing of protective clothing, hand gloves & safety goggles.
Contact Us
438, Phase-II, Near Tapsheel, GIDC, Vatva, Ahmedabad, Gujarat, 382445, India
Phone :+918068214312